No flash player!
It looks like you don't have flash player installed. Click here to go to Macromedia download page.
Powered by Flash MP3 Player
BOOK ARTIST
www.faelaband.com/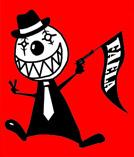 Musicians from Argentina, Bosnia, Chile and Sweden create their own, original Faela sound through an explosive mix of styles.
The unique combination of the members´ personalities is reflected in Faela´s music and performances. Latin flirts with Balkan, and with the help of jazz, reggae and disco Faela goes straight into the audience's hearts. The band has made a big impression on the music scene since their formation in 2007 and the growing crowd of fans around the world proves that Faela is irresistible.